Star Wars: The Clone Wars

—

A long time ago in a galaxy far, far away... Before Disney+ (before Disney even owned Lucasfilm) there were epic weekly adventures in the Star Wars universe on Cartoon Network.


---

For every star, a story.

The idea for the initial launch was—as much as possible—to stay out of the way. This is one of the biggest entertainment brands in history. We were introducing a new art and animation style, new characters, and new worlds to the franchise.

Dave Filoni, the show's supervising director said, "...put a lightsaber in a character's hand on a poster—that says Star Wars to me." I agreed.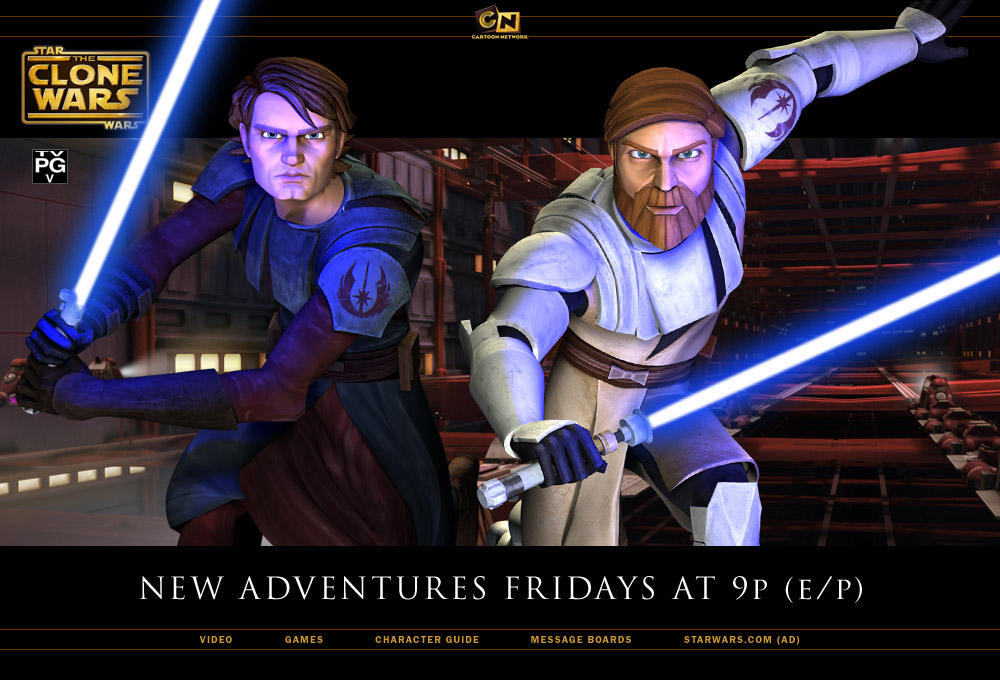 I led the other designers on my team throughout the Clone Wars project. Elements I designed with the limited intial show assets formed the foundation of the look of the campaign across print, television, and online advertising.

I worked with creative teams across Cartoon Network and at Lucasfilm to develop a coherent visual direction.






---

Show Website

We designed "posters" for every episode. The site's homepage changed every week to match the spots on-air. Every week was an mini-movie event. We treated the site as a special edition DVD for each episode: not just the show itself, but new artwork, character bios, and other special features.



---

Season 2

We created updates for every episode of the series for the first three seasons, updating with videos and bonus content for each episode. Games and other promotional content updated with new characters and new worlds as they were introduced in the show.





The second season of The Clone Wars was all about bounty hunters. The launch online was all about the Star Wars: The Clone Wars Game Creator. Play as a hero or a villain—a Jedi, clone trooper, or, you guessed it... bounty hunter.


Agency: Cartoon Network
Role: Designer / Art Director

Credits


AD: Chris Corum / Fassy Veith
CW: Kevin Barry


GD: Chris Corum / Dylan Tarre
CD: Art Roche / Michael Ouweleen





---
---