SPAM Can!

—

It's been a big couple of years for this 75+ year old little can of pink pork product.

Hip restaurants across the country are serving it without irony. Cooking competitions are challenging contestants to make desirable dishes out of this product. A brand that has become a shorthand for something you don't want. Turns out that SPAM isn't always something you want to ignore.

You may hate it in your inbox, but maybe you should give it another try on your menu.


---
The SPAMerican Tour



The SPAMerican Tour travelled the country from city to city to celebrate the passion and creativity of SPAM fans. It's not just the food. They wear SPAM gear, make art about it, and use the empty cans for all sorts of things.

To say thanks we worked with local celebrity chefs, who served their SPAM recipes from a food truck. Artists made posters about the different facets of SPAM in the world—chefs, fans, and of course, Mom and Dad. Fans took home the art, recipes, and all the other fun from the tour in a souvenir book.

These were handed out across the U.S., and reformatted to a recipe book that's given to visitors at the SPAM Museum.

---

Tour Posters

In addition to celebrating the brand, 2016's tour was about saying thanks to everyone out there who makes SPAM the cultural icon that it is.

Thanks to the chefs, for dreaming up great new ways to prepare SPAM. Thanks to the press, the bloggers, and everyone else who helps spread the word. Thanks to our fans, whose creativity inspires us. Thanks to the six simple ingredients, for keeping it simple. SPAM has been a partner with the armed services for more than 75 years. Thanks to our troops for keeping America safe. And last but not least, thanks to Mom and Dad, for making it like your mom used to make it.

We worked with ARTCRANK and illustrators from around the country to develop six posters. We guided the concepts, colors, and design to create a coherent series.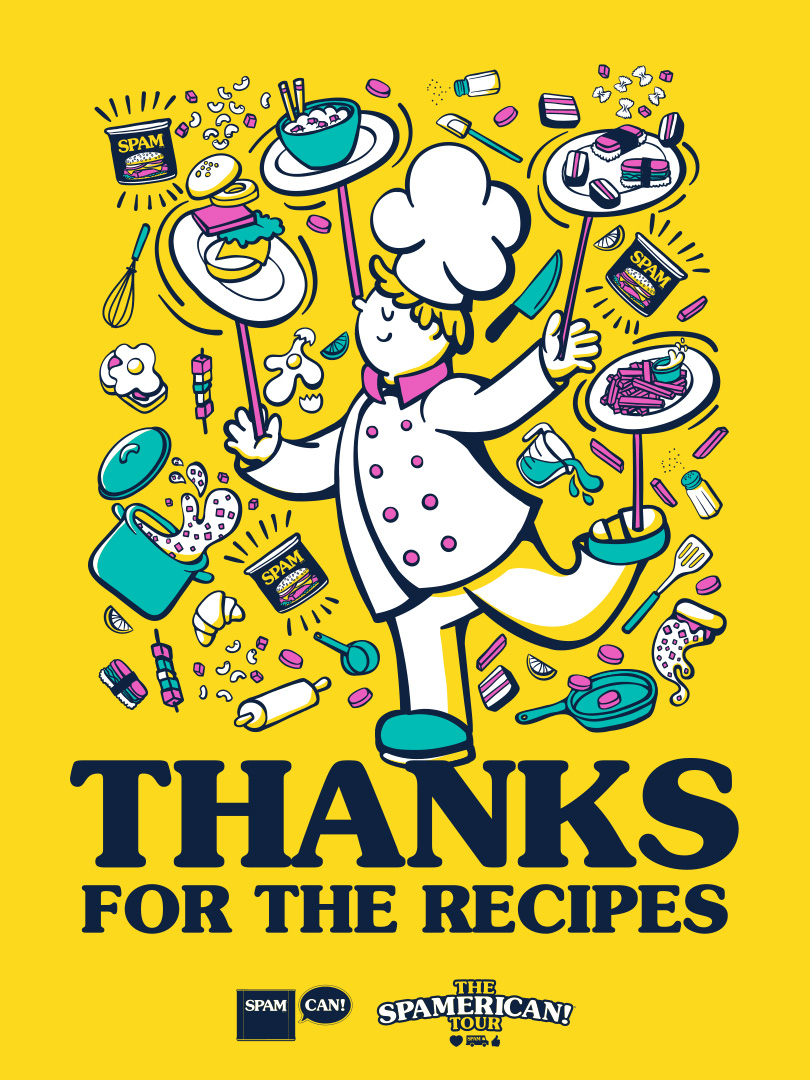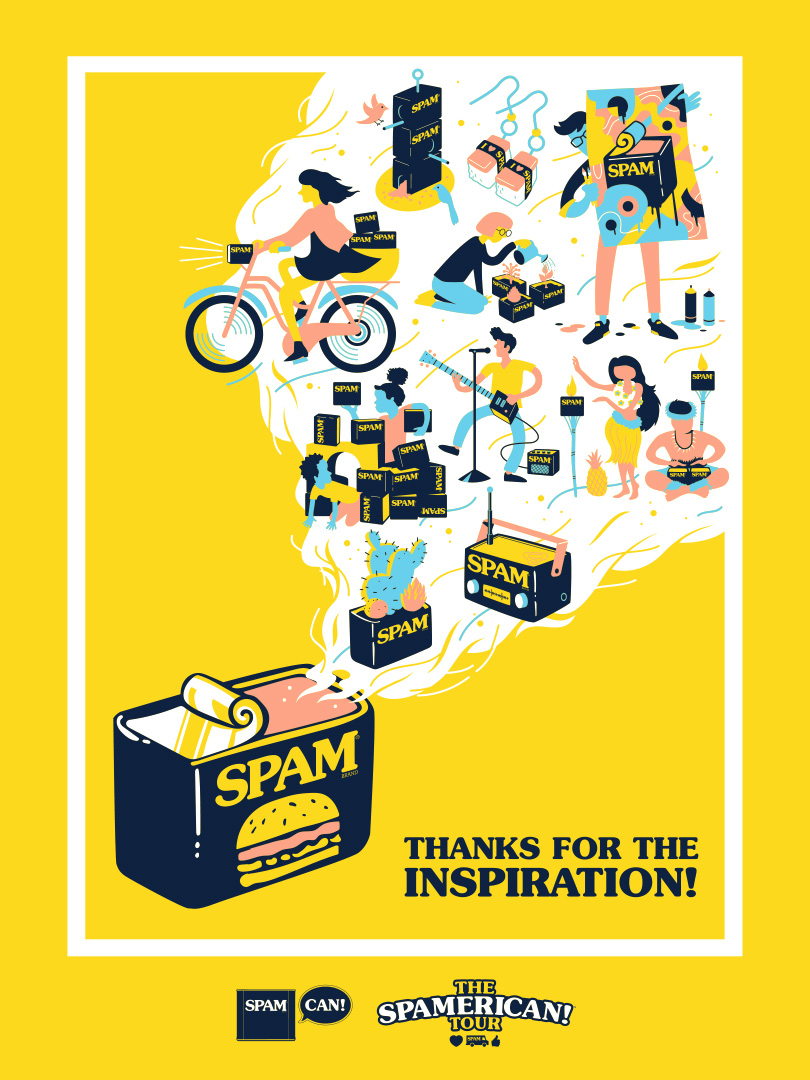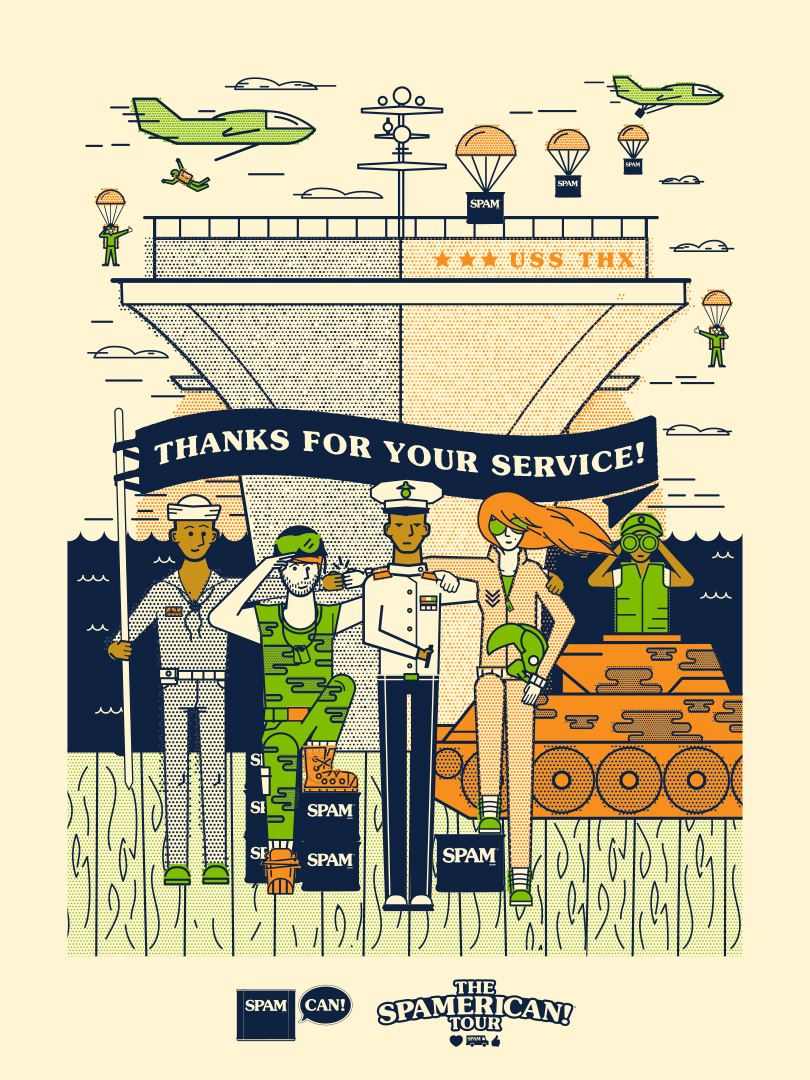 We repurposed this art for out of home advertising for the tour.



---

SPAM Can! Videos





These spots focus not just on recipes you may find surprising, but also on other unexpected things that SPAM does. I bet you didn't know that SPAM is made with just six ingredients, that it's huge in Hawaii, or that there's a SPAM Museum.


The graphic, Pop Art look connects to the print elements. We produced them on a shoestring budget to support the experiential activations.



This is was the last year of this campaign. You can see where the brand went next here.


Agency: BBDO Minneapolis
Role: Art Director / Designer / Illustrator

Credits


AD: Chris Corum
CW: David Mackereth

CD: Tim Brunelle
ECD: Noel Haan




---
---